About Me
Resizing Temps
If Need be, You may resize my templates as I know they are quite large. I do that to suit everyone's needs. All I ask is Just dont rip them apart or claim as your own. Thanks all. Huggies xoxo, Pooker
Sunday, June 24, 2012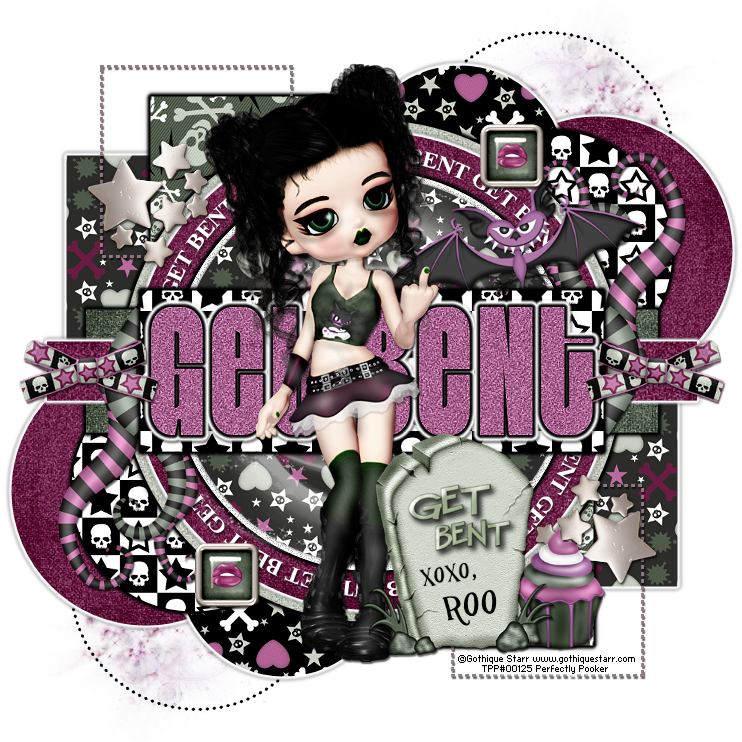 I am a little late getting this up! I have been going through some changes and thinking of things to do, Plus personal stuff,
But Better late than never right? lol
This awesome tag I made to me is Fantastic, the kit the tube and the template. I couldnt have done it without the help of Gothique Starr aka Roo. Weeeeeee! Thanks hunny! XOXO
The tube I am using is made by Gothique Starr and it's called
Get Bent
And The kit I am using is also called
Get Bent
!
It's a matching tube and kit set or you can buy them individually! You can get this amazing tube and kit here at:
They have many wonderful tubes and kits over there as well as all of Gothique Starr aka Roo goodies too. Make sure you swing by to check it out! Weeeeeeeeeeeeeeee!
Also Make sure you stop by Gothique Starr's Website to check out the latest updates as well.
Here is the Exclusive template I made just for the matching tube and kit! I really hope you all likes so much! You can only get it one place! And thats at Gothique Starr aka Roo's Blog!
Make sure you swing by her blog to get this cool temp and to find out even more info on her amazing works.
Lot's of love,
My Licenses
CDO-1783
BHS-315
BJ0528
AMIKABA
PA0250
CI0044LM
CM-199KB
AC573
DSI920
KG1212
PFD_Pooker
ZZT621