About Me
Resizing Temps
If Need be, You may resize my templates as I know they are quite large. I do that to suit everyone's needs. All I ask is Just dont rip them apart or claim as your own. Thanks all. Huggies xoxo, Pooker
Thursday, March 22, 2012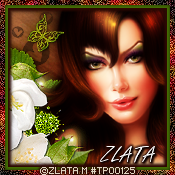 Okies I am pretty sure you all already know this fabulous artist! And if you don't It's Zlata!
Weeeeeeeeeeeeeeee
I just had to use this tube. She has a few layers to her to really help create the perfect image for any project! Plus Zlata's work is already gorgeous and speaks for it's self so it's easy to work with!
Swing by and check them out. Zlata has some gorgeous pieces over there already and I know you will just love them all!
I hope you all have liked what I made.
I might be back with a matching tag with extras for you all to snag as well.
Weeeeeeeeeeeeeee Lot's of love,
My Licenses
CDO-1783
BHS-315
BJ0528
AMIKABA
PA0250
CI0044LM
CM-199KB
AC573
DSI920
KG1212
PFD_Pooker
ZZT621