About Me
Resizing Temps
If Need be, You may resize my templates as I know they are quite large. I do that to suit everyone's needs. All I ask is Just dont rip them apart or claim as your own. Thanks all. Huggies xoxo, Pooker
Thursday, April 26, 2012
Woooohoooo I just became a New CT member for a wonderful Scrap Designer - Wicked Princess Scraps aka Shani Kenny
So Excited!
Thank you for having me on your team! hugs xoxo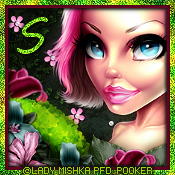 The elements were fabulous and so unique with lots of variety and the papers were killer. I loved working with this kit and so love how my set came out!
You will def have to check out some of the stuff she has made!
Also check out her gallery of what others have made and get an Idea of what you can make too.
Wicked Princess Gallery
It will let you know what she has to offer and where she is selling her beauties at!
Please stop by, you dont want to miss out!
The Gorgeous tube i used is made By Lady Mishka it was one of her Prepaid projects, but you can still get it if you have a PFD Exclusive Membership!
Swing on by there as well too see what else she has!
Hope you all like what I have made.
Lots of love,
My Licenses
CDO-1783
BHS-315
BJ0528
AMIKABA
PA0250
CI0044LM
CM-199KB
AC573
DSI920
KG1212
PFD_Pooker
ZZT621